New Newsletter Format
I only publish this newsletter 4 times per year so in an effort to make this as valuable to my subscribers as possible, I'm cleaning up the format and including some consistent content themes. Future editions will always include these same four headings. Hope you like it!
A Word on Personal Development:
Strategy / Tool / System
Recently I've tried to approach goals, obligations, jobs, and... well generally everything through the paradigm of these three things. Strategies, Tools, and Systems. Trying to separate any endeavor into these three compartments helps me better understand the objective and how to approach it to most effective.
Let me give you a live example. If my goal is to run a marathon then my strategy is to train hard and prepare my body via physical exercise and nutrition to be able to run 26.2 miles in less than 4 hours. My tool(s) may include an app that gives me a training schedule. Another app that tracks each workout, and perhaps some sort of program to track my calorie intake. My system is to have a weekly planning session each Sunday to map out my workout plan and eating plan.

Look at the arenas or goals in your life where you are having the most frustration and break down your thoughts and activity into these three pieces.
Financial Tip
Start at the beginning. If you aren't getting to all your dreams and goals then there is a problem is your financial foundation. The foundation is your budget. Start at the beginning means mapping out your monthly income against your month spending. As you work on that budget be sure to build in AT LEAST 10% savings. Ideally you should be saving 20% of your income for your long term goals. If you can't get all the way to 10% then you need to cut out expenses immediately. If you are somewhere between 10 and 20% but don't feel you can get to 20% then you need to take a hard look at the expenses and explore additional or greater streams of income.

All your savings need to go toward a rainy day emergency fund account until you have 3-6 months worth of expenses set aside. Then you can work on other long term goals that may include retirement, new car, new home, or other investments.
Online Marketing 101
The 3 Ps of Web Traffic
Produce Quality Web Content

If the content on the website isn't of great value to a large audience then no further strategy is necessary because the traffic will rarely come and never stick. The cliche in the industry has always been "Content is King" precisely because it is the foundation to all other strategies. One must consider a content niche with a strong emphasis on understanding the target audience and their needs. Producing Content is the first P of the three Ps of Web Traffic in the same way that Content is the first C in the three Cs of online marketing. It is first and it is critical.

Proper Technology and Formatting

I have seen many organizations suffer from poor technology that stops traffic like putting a closed sign on the door of the business. If the search engines cannot read or index the content correctly they will not serve up your pages when people search for relevant content. This means a lot of things including the right meta tags, sitemaps, permalink structure, 404 handling, sub-domain management, and more. Some technologies have gone a long way to ensure this is made as easy as possible. WordPress, Joomla, and others are popular for that very reason.

Promotion

If you want to get traffic you have to let people know your content is there. Promotion can be done in a lot of different ways and this is integral to a search engine optimization strategy but also has everything to do with direct promotion in the more traditional sense. To be more specific, promotion includes much of what you may do with building communities on Twitter, Facebook, YouTube, via Email etc. It also has to do with becoming a category expert on popular forums and discussion boards relevant to your topic. Where you may have an advertising budget, promotion also includes buying advertising online or offline.

The Best Book I've Read Recently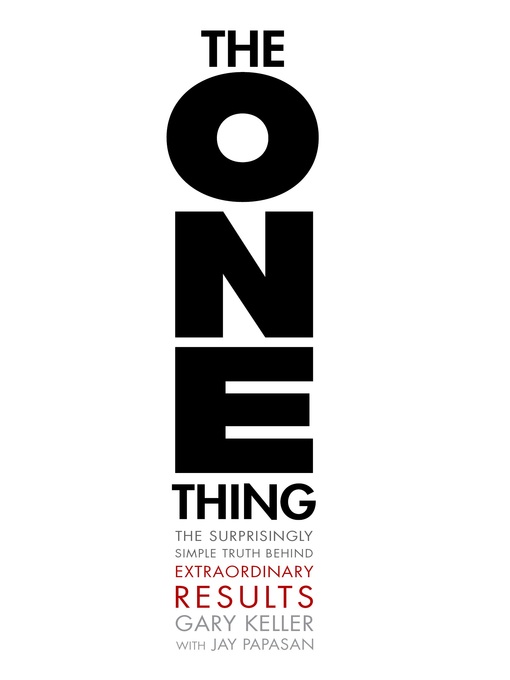 The premise of The ONE Thing is that at any given point in time, there is only one thing that you should focus on doing. Your one thing is the thing that moves you the closest or the fastest toward your goal.

Around that theme the authors talk about the major lies that exist in the "productivity" community. These include the idea of multitasking, being disciplined, a balanced life, and others. The core of the book focuses around what the authors call the "Focusing Question," which is, What is the One thing I can do such that by doing it everything else will be easier or unnecessary? The books also talks about 3 commitments to productivity, 4 Thieves of productivity and other helpful insights around time management and time blocking.

I loved this book. Its concept is obviously simple and yet very important. Its easy to apply immediately and it can product dramatic results fast. One of my favorite ideas from the book is the idea that we must time block our one thing. That means putting it on our schedule and protecting that time. If we lose some of that time (which is inevitable) from distractions or emergencies we must replace it.



I believe that everyone has what it takes. I believe that brilliance, joy, and prosperity, lie within every man and woman. I believe that when taught, all of us can release this inner producer and create greater value for all those around us. I believe that in that transfer of value we all become more wealthy.

Jacob S Paulsen
If This is your first time receiving the JP Squared Newsletter I should tell you that I only send this out 4 times a year and if you really don't like it you can unsubscribe by clicking on the link below.

To stop receiving these emails please unsubscribe.
%%companyname%%, %%companyaddress%%, %%companyphone%%