According to marketing services provider Epsilon, the second quarter of 2012 brought us the lowest CTR levels in two years. Over the last two years we have seen slight increases quarter to quarter with few exceptions. Sadly the last three quarters in a row we have seen steady declines in click through ratios. The following graph from eMarketer.com illustrates the trends for non-bounce rates, open rates, and clickthrough for the last two years.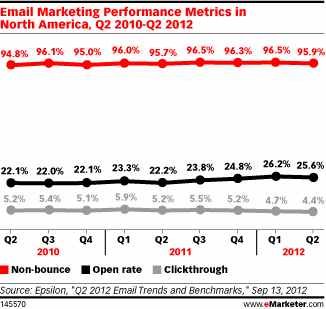 This suggests that while email marketers are consistently effective at writing catchy email subject lines, the content is not good enough to encourage the marketplace to click through. Clicks ultimately drive the sales and actions from which advertisers measure engagement and return on investment.
In the future you can count on the email marketing community working at new strategies and tactics to drive greater engagement with consumers via email.